Thermokarst Formation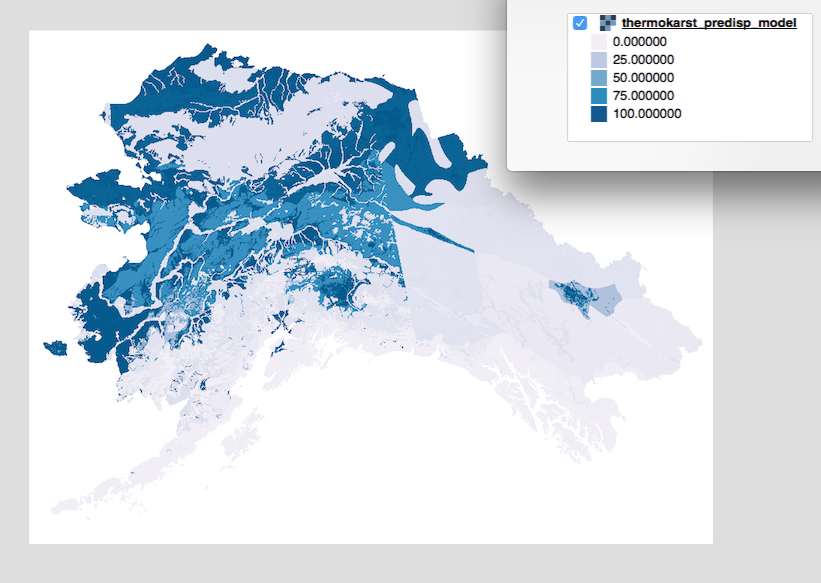 Data and Resources
Access data

HTML

URL to web-accessible folder containing downloads for this data set.

Brown et al. 1997

HTML

Brown, J., O.J. Ferrians, Jr., J.A. Heginbottom, and E.S. Melnikov. 1998,...

Permafrost Characteristics of Alaska

HTML

Jorgenson, T., K. Yoshikawa, M. Kanevskyi, Y. Shur, V. Romanovsky, S....

The Northern Circumpolar Soil Carbon Database

HTML

Hugelius, G., C. Tarnocai, G. Broll, J.G. Canadell, P. Kuhry, D.K. Swanson....

XML Metadata

XML

Metadata for this data set in ISO19139 format.
Additional Info
Spatial resolution
1000 meters
Temporal extent
Start date: June 2014
End date: June 2014
Credits
The following people worked on producing this data set:
Helene Genet
David McGuire
ATM Group
Yujin Zhang
This research is funded by the Arctic Landscape Conservation Cooperative, Western Alaska Landscape Conservation Cooperative, and Northwest Boreal Landscape Conservation Cooperative (LCCs) and the Alaska Climate Science Center.
| Field | Value |
| --- | --- |
| Source | http://data.snap.uaf.edu/data/IEM/other/thermokarst/ |
| Maintainer | Hélène Genet |
| Version | 1.0.0 |
| access_constraints | [] |
| bbox-east-long | -111.25894 |
| bbox-north-lat | 71.34142000000001 |
| bbox-south-lat | 51.34819553970801 |
| bbox-west-long | -173.49206 |
| contact-email | hgenet@alaska.edu |
| coupled-resource | [] |
| credits | ["Helene Genet", "David McGuire", "ATM Group", "Yujin Zhang", "This research is funded by the Arctic Landscape Conservation Cooperative, Western Alaska Landscape Conservation Cooperative, and Northwest Boreal Landscape Conservation Cooperative (LCCs) and the Alaska Climate Science Center."] |
| dataset-reference-date | [{"type": "creation", "value": "2014-06-26T00:00:00"}] |
| download-url | http://data.snap.uaf.edu/data/IEM/other/thermokarst/ |
| frequency-of-update | asNeeded |
| graphic-preview-description | thumbnail |
| graphic-preview-file | IEM_monthly_temp_hist_s.png |
| graphic-preview-type | png |
| guid | e7ca8856-d272-4953-9e80-46097196d06e |
| licence | [] |
| license | Creative Commons Attribution 4.0 |
| license_url | http://creativecommons.org/licenses/by/4.0/ |
| metadata-date | 2016-12-12T13:36:48 |
| metadata-language | |
| progress | |
| resource-type | |
| responsible-party | [{"name": "Institute of Arctic Biology", "roles": ["pointOfContact"]}] |
| spatial | {"type": "Polygon", "coordinates": [[[-173.49206, 51.3481955397], [-111.25894, 51.3481955397], [-111.25894, 71.34142], [-173.49206, 71.34142], [-173.49206, 51.3481955397]]]} |
| spatial-data-service-type | |
| spatial-reference-system | 3338 |
| spatial-resolution | 1000 |
| spatial-resolution-units | meters |
| spatial_harvester | true |
| temporal-extent-begin | 2014-06-26T00:00:00 |
| temporal-extent-end | 2014-06-26T00:00:00 |